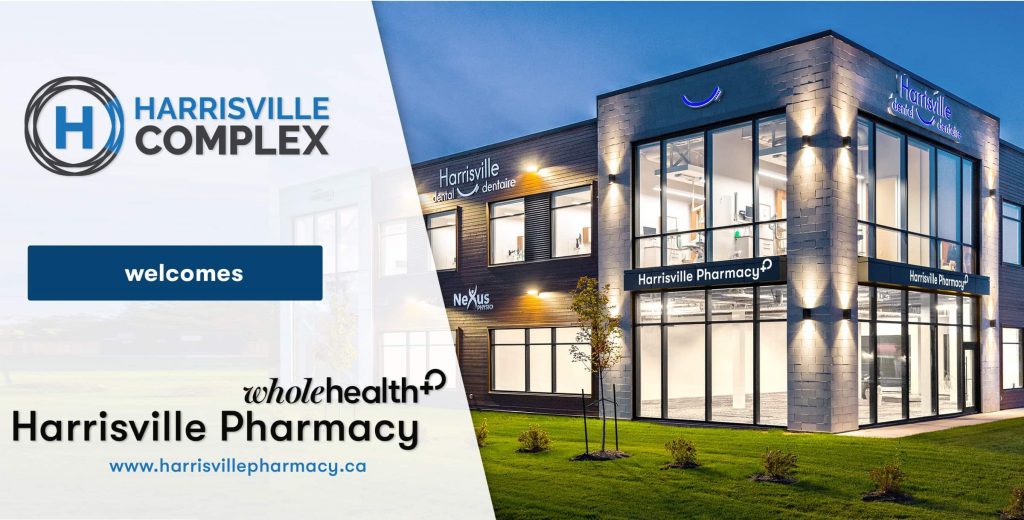 For Immediate Release
15 December 2020
Exciting news for the Harrisville Complex as Moncton's Newest Pharmacy Opened This Week!
Moncton— 15 December 2020 — Andrew and Erin Drover, in collaboration with Wholehealth Pharmacy Partners, are excited to open a pharmacy and health & wellness centre in the Harrisville/Grove Hamlet area of Moncton.
"Our goal is to offer high-quality healthcare using a full scope of pharmacist practice" said Andrew Drover, Pharmacist Owner.
"We want to create a uniquely personal experience, looking after our clients' whole health, that will support positive health outcomes" said Erin Drover, Consultant Owner.
This will be the first location in Atlantic Canada for Wholehealth Pharmacy Partners. "Wholehealth Pharmacy Partners are truly excited to welcome Erin and Andrew to our family. It is not everyday you are the first at something, Harrisville Pharmacy will be our first location in Atlantic Canada and we are proud to welcome owners that care about their community as much as Erin and Andrew do." said Dean Miller, President of Wholehealth Pharmacy Partners.
The Pharmacy offers a wide scope of pharmacist services including assessments, prescribing and administration of adult immunizations and flu shots, treatment of minor conditions such as uncomplicated urinary tract infections, and travel consultations for common destinations. Including a traditional prescription dispensary, Harrisville Pharmacy will offer over-the-counter medications, health & beauty aids, baby care products and nutritional supplements.
The Home Health & Wellness Centre offers a suite of full-service soft medical products and services, including compression therapy, incontinence and ostomy supplies, mastectomy fittings & appliances, mobility aids & breastfeeding solutions.
The Pharmacy is located at 1121 Harrisville Rd, Suite #100.
For more information, please visit
HarrisvillePharmacy.ca or Facebook @harrisvillepharmacy